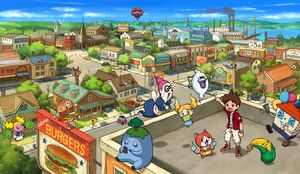 'Merican Yo-kai (Japanese: メリケン妖怪, Meriken Yōkai) are Yo-kai that hail from BBQ, that can be found in St. Peanutsburg and other places in Springdale. Their Yo-kai Medals can only be inserted into the Yo-kai Watch Model U and Yo-kai Watch Model Dream in order for them to be summoned.
'Merican Medals are red, much like the Classic Medals, except they're more vibrant in color. The backgrounds have a comic book aesthetic to them, with the names of the Yo-kai being put in a word bubble. In addition, the squares that contain the directional arrow and the Yo-kai tribe icon are instead made to resemble the American flag.
However, Tomnyan, the Koma Knomads (Knomad-Jiro and Knomad-Koma), Terminyanator, Supernyan, and Kaped Komander are the only 'Merican Yo-kai who have Dream Medals, which resemble poker chips, instead of 'Merican Medals.
List of 'Merican Yo-kai
'Merican Yo-kai Introduced in Yo-kai Watch 3
Icon
Yo-kai
Rank
Tribe
Attri.
Fav. Food
Goofball
Slugger
BBQvil
Hot Air Buffoon
Shurikenny
Nunchucky
Zip Unlock
Chicken Chukket
Cornfused
Unshelltered
House Partay
Skulleidoscope
Lionguist
Imagenius
Miss Teri
Squandeer
Agent Spect-hare
Snow Spect-hare
Oh Wheel
Roughgraff
Chilled Cowcao
Stircrazy Stu
Oh Bah Gah!
Shipshape Sailor
Admirable Admiral
Sing Kong
Steaking
Showbonyan
The Jawsome Kid
El Sharkador
Silver Lining
Petty-Cake
Hoppy-go-Lucky
Buttered Blue
Punching Baguette
Unbelievaboy!
Unbearaboy!
Inflammaboy!
Runsure
Kittylumbus
Zest-a-Minute
Stinkeye
Slackoon
Puppiccino
Tomnyan
Koma Knomads

*

In-Tune
Supersize Gramps
Afronaut
Tomorrow Gal
Lazy Sundae
Got It Maid
Right Brothers
Tattlecakes
Pearly White
Double Time
Sonic Bam
Treetter
Retreeter
Salty Bacon
Indexter
Hack King
Crook-a-doodle
Rocky Badboya
Injurnalist
Lil Kappa
Dr. E. Raser
Dr. Nocturne
Tie-red
Love-Torn
Grubbles
Nervous Rex
Oridjinn
Horridjinn
Little Charrmer
Snailspace
Putasockinit
Snidewinder
OMGator
Nautaloss
T-Wrecks
D-Stroy
Clodzilla
Cocobanana
King Jibanyan
Queen Usapyon
Jackomasan
Komajiro Ten
Acenyan
Josper
Terminyanator
Supernyan
Judgebrick
Venoctobot
Kyubot
Deadcool
Sweattuce
Amplifly
My-Baaad
Kaped Komander
Tofupyon
Gorgeous Ambassador
Other 'Merican Yo-kai
| Yo-kai | Name | Rank | Tribe | Attri. | Fav. Food |
| --- | --- | --- | --- | --- | --- |
| | | | | | |
Trivia
In other languages
| Language | Name | Meaning |
| --- | --- | --- |
| Japanese | メリケン妖怪 Meriken Yōkai | |
| German | Merikka Yokai | |
| Italian | Yo-kai 'Merican | |
See Also
Community content is available under
CC-BY-SA
unless otherwise noted.