Yo-kai Medallium biography

Jinpei Jiba, after temporarily taming Mikettio, managed to transform after getting posessed by him. This state of the art Yo-kai Hero rolls on roller skates and fights nimbly with his yo-yo.
Earth Walker (Japanese: アースウォーカー, Āsuu-Wōkā) is the Yo-kai Hero form of Jinpei Jiba when possessed by Mikettio.
In Yo-kai Watch: Wibble Wobble, he is a Rank ZZ Yo-kai of the Brave tribe.
Appearances
Biology
Earth Walker is a cat-like Yo-kai Hero with a dark gunmetal gray body with black spots on his forehead and has glowing pure (or mostly pure) cyan/lime green eyes peeking out from the black glasses. He wears a white sleeveless, gray-trimmed high collar (with cyan and magenta stripes at the front), zipper jacket with a yellow 'M' shaped zigzag at the chest, side pockets and small cyan and yellow details at the bottom. He has a gold zipper that fastens at the top while the collar is not part of the zipper, unfolded up high covering Earth Walker's mouth as the jacket doubles as a mask to cover his mouth and zips all the way down. He also wears a four plated white/magenta/yellow/cyan arm sleeve, white baggy pants that reaches to his upper calves and magenta, white, gray and gunmetal gray roller blades.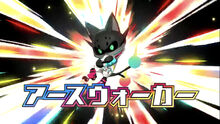 Like Kengo Benimaru, Earth Walker has two dark gunmetal gray tails with flames burning strongly at each tip of the tips of the tails; a cyan flame on the left and a magenta flame on the right while both faded to yellow spiked tips.
Attacks
Attack
Image
Command Medal
Rating
Obtained
Used
Memorial Jump (Japanese: メモリアルジャンプ

Memoriarujanpu

)

★4
YG038
YG038
Roller Dash (Japanese: ローラーダッシュ

Roradashu

)

★4
YG037 transmuted from Big Challenge
YG037
Dynamic Cat End (Japanese: ダイナミック猫エンド

Dainamikku Neko Endo

)

★4
YG038 transmuted from Crimson Slash
YG038
Granzort Cat Sky Drive (Japanese: グランゾート・ネコスカドライブ

Guranzōto Nekosukadoraibu

)
★3
YG038
TBA
Back Dropper Nyaos (Japanese: バックドロッパーニャオス

Bakkudoroppānyaosu

)

★3
YG038
YG039
Ultimate Beast Gun Knuckle (Japanese: アルティメット百獣ナックル

Arutimetto Hyakujū Nakkuru

)

★3
YG041 transmuted from Beast Gun Knuckle
YG041
Profile
Transformation Song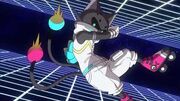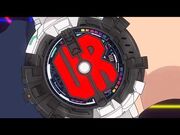 ♪Y! Y! Trinity!♪ (Japanese: ♪ワイ! ワイ! トリニティー!♪, ♪Wai! Wai! Torinitī!♪)
Quotes
Wait. (Japanese: 待て。

Mate.

)
I don't care... Earth Walker! (Japanese: どうでもいいけど… アースウォーカー!

Dō demo īkedo… Āsuu~Wōkā!

)
In the anime
Yo-kai Watch Jam - Yo-kai Academy Y: Close Encounters of the N Kind
Earth Walker briefly makes a cameo in YG016 where Ranto Kirigakure recalls a mysterious person who saved him from the aliens in a flashback.
In YG037 and YG038, Kuka Nanakumo gives Jiba Jinpei the Ultimate Revolution upgrade to his YSP Watch, allowing him to transform into Earth Walker despite Mikettio trying to prevent his transformation. Because of his immense power, he manages to take down Pit Bull and the rest of the DG Trooper army which saved the troubles of everybody else.
When Elzemekia sends one of the Grey Agents back in time to abduct younger Ranto causing the present-day Ranto to fade, Haruhiko Usumizawa suggests Jinpei to use his YSP Medal where Haruhiko reveals to them that they are actually reincarnations of Yo-kai.
To travel back in time, Haruhiko explains that with Bluepon's memory powers Earth Walker can use one of the Command Medals to visit a specific time period even though most of the events already happen in motion. Earth Walker manages to stop the Grey Agent from capturing the younger Ranto in the nick of time, but they reveal to be parts of Alien fragments which soon submerge onto a pair of nearby crows.
Earth Walker goes after the possessed crows and easily beats them but they both combine into a mutated alien crow monstrosity. They both battle outside, where the crow attempts to immobilize Earth Walker, but he foresaw the attack and ties him up with his yo-yo. Just before the alien fragments were about to possess a nearby eagle, Earth Walker defeats them with his blade and manages to change past events from happening.
Back in the present day, Ranto is finally back to normal and remembers the "hero from the future" that saved him back then much to Elzemekia's disappointment. Earth Walker and Ranto (who transforms into Deep Shadow Galaxy) both fight against Elzemekia in a duel where she manages to easily beat Deep Shadow Galaxy but is easily taken down by Earth Walker. She tries to transform into her second form Zoidara to gain the upper hand, but her master stopped her.
Etymology
Earth Walker's name might be a pun on Luke Skywalker, the protagonist of the Star Wars franchise. This matches one of the themes of Yo-kai Academy Y, which is space.
Trivia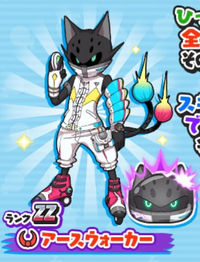 It was originally thought that the mysterious figure who saved Ranto Kirigakure in a flashback in YG016 was Blue Moon, however as of now it is clear to see that the mysterious figure was actually Earth Walker.
When he says his name, Yggdrasil from Norse Mythology can be seen behind him.
His artwork in Yo-kai Watch: Wibble Wobble at the news screen depicts him in an earlier appearance. Notable features like the collar being thinner, holding a YSP Watch instead of a UR Watch and bigger stripes on his sleevless hoodie jacket. Strangely, the thin collar detail was seen in the flashback of the anime series.
He is one of the seven Yo-kai Heroes to be featured on the DX Y-Medal, Transformation Y-Medal and Item Y-Medal, with the others being Kengo Benimaru, Ninetail, Wild Boy, Blue Moon, Sky Snaker and Deep Shadow Galaxy.
In Yo-kai Watch Jam - Yo-kai Academy Y: Close Encounters of the N Kind, Earth Walker is voiced by Megumi Han, who also voiced Dante Kouryu from Beyblade Burst Rise, as well as Koalanyan from M03.

Speaking of which, his concept was similar to Dante's second Beyblade, Imperial Dragon, as both are meant as upgrades of a trio of enitities, as Earth Walker can be considered as an upgraded form of Jinpei's Yo-kai Hero forms, as Mikettio, the Yo-kai that is require to transform into Earth Walker, is a fusion of Bakera, Goromi and Bluepon, which are the Yo-kai required for their respective forms (Kengo Benimaru,Wild Boy and Blue Moon), and Imperial Dragon is an upgrade from Ace/Rock/Grand (or Glyph in the west) Dragon (who are an attack, defense and stamina Beyblade respectively, 3 classifications in the Beyblade franchise).

Earth Walker's Grand Cat Sky Drive heavily resembles Jibanyan's "Paws of Fury".
Earth Walker is the only Yo-kai Hero to have his Transformation Song revealed in the Video Game instead of the anime series.
He is one of the seven Yo-kai Heroes to pronounce their name after the Transformation Song, with the others being Clock Lady, Wild Boy, Mist Shadow, Blue Moon, Sky Snaker and Deep Shadow Galaxy.
He is the first Yo-kai Hero to have a completely different voice actress than the Yo-kai and Yo-kai Watch Master needed in his transformation. 
He is one of the seven Yo-kai Heroes to use the Command Medal they've received in a single episode, with the others being Wild Boy, Mist Shadow, Shishi O, Little Kommander, Sky Snaker and Ninetail.
Community content is available under
CC-BY-SA
unless otherwise noted.