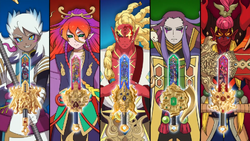 Kenbumajin (Japanese: 剣武魔神, Kenbumajin) are Yo-kai introduced in Yo-kai Watch Shadowside. They're of a higher status than the Genjuu.
Information
Kenbumajin are warrior-like humanoid Yo-kai, who can be summoned with the Yo-kai Watch Ogre, using items called "Sacred Armory".
List of Kenbumajin
Trivia
It has been implied that all Kenbumajin have Genjuu forms.
The Gen'ou ("Gen-king") of the Genjuu had provided the Youseiken to the 5 of the Genjuu, thus granting them their Kenbumajin forms.
Douketsu formally wielded Ashura's Youseiken, so it was assumed that he was its wielder until Ashura's existence was revealed.