Yo-kai Medallium biography

"Komasan is a guardian lion-dog that got bored with guarding his shrine. Now he's looking for a new one."
Komasan (Japanese: コマさん, Komasan) is a Rank D, Fire-attribute Rare Yo-kai of the Charming tribe and the Omamori tribe in Yo-kai Watch 4. Prior to Yo-kai Watch 2, he was a Regular Yo-kai.
The level that is required to make Komasan evolve into Komane inexplicably varies from the different game series since the line's inclusion. In Yo-kai Watch, it was originally set at Lv. 35, and in Yo-kai Watch 2, it is set at Lv. 25. As of Yo-kai Watch Blasters, he can evolves into Komane when fused with a Swirly Soul, and in Yo-kai Watch: Wibble Wobble, can evolves into Komasan S when fused with Komasan A.
Komasan is a secondary mascot for Yo-kai Watch, appearing along side with Jibanyan or by himself. He one of the most popular Yo-kai in the franchise.
Appearances
Video games
Anime series
Manga series
Biology
Appearance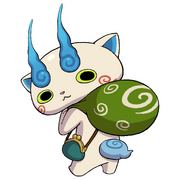 Komasan is a komainu, closely resembling a shiba inu with long, blue fiery eyebrows that look similar to hitodama flames. Throughout his body and head, he has ivory-colored fur with a light blue stomach, tail, and inner ears. His eyes are a lime-green color and he has red swirls on his cheeks and hips. Komasan's eyebrow flames are actual fires, but can rarely cause burns.
He carries a green furoshiki (a cloth that can be wrapped, which is used for storing and carrying items) with a white spiral patterns wrapped around his shoulders. He uses it to carry various objects, in the event of finding a new place to live or for travelling to other places. In later appearances, he wears a green sling pouch which was given by Komajiro in the anime series, where he uses it to carry extra items inside of it. This detail is somewhat retained in his human disguise.
When Komasan puts a leaf on top of his head, he can transform into a human for his disguise. His human appearance is of a male teenager with black hair, eyes with black pupils with a facial appearance resembling the original form of the Yo-kai, while he wears a beige blazer with a shirt, necklace and dark-brown pants. He sometimes uses it in the anime series, most notably in the Komasan In Love segments, even though in Kaptain Komasan, he is seen in his original form to the viewer.
Personality
Komasan is a shy, yet curious Yo-kai that likes discovering new things. He was once a guardian at a shrine for centuries until it was demolished, leaving him to wander into the city and get used to modern life. In the video games, he's depicted as initially timid and cowardly, a point that earns him the mockery of Springdale's guardian Kyubi.
He is portrayed as a country bumpkin and usually speaks with a stereotypical country dialect; this manifests as a Southern accent, where he tends to add slang to his sentences. In the Japanese version, he talks in a Nagano dialect while he adds -zura suffix to his sentences. When excited, frightened, or surprised, he usually exclaims "Oh my swirls!" (Japanese: もんげー!, Monge~!), though on several exceptions he says other stuff in English version.
He is also friendly and peaceful, and usually tends to care about his friends. Despite that, listening to long monologues usually causes a distraction for him. Komasan usually does not resort to violence in the middle of a conflict, even if he gets angry which is a rare occurrence for him. Though Komasan is smart when learning about new skills, he also tends to make odd decisions which usually results in a better option for him.
Abilities
Despite rarely using his powers in most depictions, Komasan can control fire to a degree and summon hitodama flames to set fire on his opponents.
In the manga and anime series, he rarely uses fists for fighting when in the middle of a conflict and tends to call others for help. Occasionally, Komasan uses weapons like a bazooka which are usually provided by his friends but he isn't good at handling weaponry.
Profile
Yo-kai Watch
Komasan is befriended automatically through the main story in chapter 7, after upgrading the Yo-kai Watch to Rank C. Additionally, Komasan appears in the Infinite Inferno's 1st and 2nd circles.
Komasan can be freed from the Crank-a-kai with a Select-a-Coin +.
Komasan is befriended automatically through the main story.
Main article: Komasan Sun Ce
Komasan awakens from a dream he has in Mt. Wildwood, while he hears a mysterious voice saying that he is the "hero" and accidentally drops his ice cream on the ground before waking up. He once thought that the ice cream was mistakened as flaming arrows, where the fallen ice cream reminded him of it.
Suddenly, he finds people around Springdale doing weird stuff for an "all-or-nothing" such as Bear and Eddie eating their ice cream wrong and his brother eating grass at Triangle Park. A mysterious voice claims that "hero"
Komasan is befriended automatically through the main story, after fighting the other player's team in Chapter 6.
He and his brother Komajiro can also be found in the Enma Palace in Blasters T.
Komasan is befriended automatically through the main story.
Game data
Main series games data
Yo-kai Watch

Stats
Calculation

HP

1

STR

1

SPR

1

DEF

1

SPD

1
This shows Komasan's stat on level: 99.
Type
Name
Power
Attribute
Range

Attack

Punch (Japanese: パンチ)
15
Single enemy

Technique

Blaze (Japanese: 火炎の術)
50-110
Fire
Single enemy

Inspirit

Burn (Japanese: やけどさせる

Yakedosaseru

)
Single enemy
Burns a foe with raging fire and steadily lowers its HP.

Soultimate Move

Spirit Dance (Japanese: ひとだま乱舞

Hitodama Ranbu

)
100 (1)

90 (2)

All enemies
Summons will-o'-the-wisps to damage enemies.

Skill

Alpha (Japanese: 「あ」

"A"

)
With adjacent Omega Yo-kai, SPR increases.
Yo-kai Watch 2
Blasters Stats
Yo-kai Watch 3
Blasters Stats
Yo-kai Watch 4
Attribute tolerance
△
-
-
-
○
-
Tolerance of attribute attack
Strong × ⇒ △ ⇒ - ⇒ ○ ⇒ ◎ weak
Held items
Locations
Spin-off games
Yo-kai Watch Blasters
Yo-kai Watch Busters 2
Other games
Yo-kai Watch: Wibble Wobble
Stats
Calculation

HP

200-380

Attack

150-293

HPB

1

AttackB

1
This shows Komasan's stat on level: 50.

Soultimate Move
Spirit Dance
Uses Spirit power to summon Komajiro.

Soultimate Levels
LV01
Summoned Area: 40pt
LV02
Summoned Area: 44pt
LV03
Summoned Area: 47pt
LV04
Summoned Area: 49pt
LV05
Summoned Area: 51pt
LV06
Summoned Area: 56pt
LV07
Summoned Area: 60pt

Skill Levels
N\A
LV01
Effect: N\A
LV02
Effect: N\A
LV03
Effect: N\A
LV04
Effect: N\A
LV05
Effect: N\A
Yo-kai Watch: Ukiukupedia
Evolution
Yo-kai Watch
Fire Attribute

Komasan

Level 35
→
Yo-kai Watch 2
Fire Attribute

Komasan

Level 25
→
Fusion
Yo-kai Watch Blasters
Fire Attribute

Komasan

+

Swirly Soul

=
Yo-kai Watch: Wibble Wobble
Fire Attribute

Komasan

+
=
Forms
Yo-kai Watch: Wibble Wobble
Tribe
Rank
Favorite food
Komasan A has no favorite food.
Number
Komasan is not numbered.
Stats
Calculation

HP

378

STR

529

SPR

0

DEF

0

SPD

0
This shows Komasan's stat on level: 50.
Quotes
Befriended: "So strong... Be my master, please!"
Loafing: "I'm scared..."
Being traded: "Hey there, I'm from (other player's name)'s neck of the woods. Can I bunk here?"
Receiving food (favourite): "Oh my swirls!"
Receiving food (normal): "Not the best."
Receiving food (disliked): "Gross!"
Befriended (Yo-kai Watch: Wibble Wobble): "Boy, you sure are tough! Say...would you be my pal?"
Freed from the Crank-a-kai (Yo-kai Watch: Wibble Wobble): "Oh my swirls! That was amazing! I'm comin' with you!"
Blasters House (1): "I just want to eat ice cream!"
Blasters House (2): "Huh? Moving out? Oh my swirls, I'm so nervous... Be nice to me!"
Blasters House (3): "Oh my swirls! When I'm in the city, it's nothing but surprises, every day!"
Blasters T Camp: "Oh my swirls! I'm so excited to go exploring!"
In the anime
Main article: Komasan (anime)
In the anime, he has had a large number of segments, starting with Komasan In the City where he tries his best to learn as much about the city as he can to present himself as a good role model to his younger brother, Komajiro. He pretends to be very knowledgeable about city life. However, Komajiro has a high capacity to adapt to the city and soon becomes a DJ at a nightclub. By the end of this mini-series, he'd accepted his general preference for the country, and retained Komajiro's admiration by saving him from getting beat up. They ultimately decided to remain in the city, taking up residence at a small riverside house.
In the manga
Manga series
He debuts in the special Chapter of Volume 3, in his mini-story he looks for a home and looks at a kitten with an "Adopt me" sign, he tells the kitten to look for a home for himself and climbs into the box to be adopted to the.
Wakuwaku Nyanderful Days
He makes his debut in Chapter 8 where he was looking for a new home with his brother Komajiro since his temple was burned by Kyubi but was attacked by Roughraff. later he meets Katie and tells her his story and she decides to let Komasan and Komajiro live in her house.
In Chapter 10 witness Greesel spiriting the Forester family.
In Chapter 11 he is summoned by Katie to confront Fidgephant but ends up urinating on the ground and flees in shame.
In Chapter 13 he eats a piece of cake that Katie had saved, then is spirit by Blazion, after seeing an angry Katie he eats pancakes with the group to celebrate that Blazion joined them.
In Chapter 14 he goes with Katie's group to the hot springs and witnesses the confrontation against Sproink and enjoys the hot springs.
He appears on the cover of Chapter 15 but is not seen in the chapter itself.
Etymology
"Komasan" is the "koma" half of komainu followed by the -san honorific.
Origin
Komasan is based on a komainu, a guardian statue halfway between lion and dog. Originating from Chinese guardian lions, they guard the entrance or inner building of Shintoist shrines. They usually come in male-female pairs, placed at each side of the entrance. Because of Buddhist influences, the right one's mouth is always open while the left one's closed, pronouncing "a" and "um", the first and last letter of the Sanskrit alphabet: together they form the sacred syllable Aum. Incidentally, these letters are the original names of Komasan and Komajiro's Alpha and Omega skills.
Trivia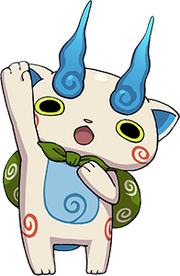 While Komasan is based primarily on a komainu, his leaf transformation and love of food are traits often attributed to tanukis.
Komasan, Blizzaria, Wobblewok and Sgt. Burly are Miho Tanaka's favorite characters he designed for the franchise.[1]
Komasan and Komajiro's Japanese catchphrase and verbal tic in Japanese were originally conceived by Kato Yoichi, a writer for the Yo-kai Watch anime series.[2] Though not appearing in the Yo-kai Watch video game, It would later go on to be a substandard for the character itself, appearing in the games, manga and various other Yo-kai Watch-related media.
Komasan was originally designed to be "a friend like Jibanyan" taking notes from the latter's design except by giving a features of a dog, and eventually making the head into a bean-shape, which would depict his personality. In another interview, Tanaka further said that he should have a twin brother as he is a komainu, which led to Komajiro's creation.
There's alternate artwork of Komasan, which depicts him with a thumb which he is never seen with in the games or anime.
In episodes of the Yo-kai Watch anime before EP029, he and Komajiro had a slightly different-looking appearance compared to newer episodes, closely resembling his artwork from the game with thinner arms and legs and a less rounder head shape.
In EP058, Komajiro says that he and Komasan are over 300 years old.
He was voiced by Melissa Hutchison in the first two seasons of the English-dubbed anime, and in the video games.
In the Portuguese dub, Komasan speaks with a Porto accent. As Porto is one of the most urbanized Portuguese districts, this contradicts his personality of a country bumpkin.
Komasan and Komajiro are the only mascot Yo-kai to have a completely different name in the Korean localization.
Gallery
Main article: Komasan/Gallery
In other languages
Language
Name
Meaning
Japanese
コマさん Komasan
French
Komasan
Spanish
Komasán
German
Komasan
Italian
Komasan
Dutch
Komasan
Russian
Комасан Komasan
Korean
백멍이 Baengmeongi
More Languages
Arabic
كوماسان Kuamasan
Chinese (Cantonese)

*

哥瑪先生 Gēmǎ xiānshēng

*

小石獅 Xiǎoshíshī
"Little stone lion"
Portuguese (Brazilian)
Komasan
Thai
โคมะซัง
Related articles
Alternate Forms
Other Forms
Community content is available under
CC-BY-SA
unless otherwise noted.