Yo-kai Watch Jam - Yo-kai Academy Y the Movie: Can a Cat be a Hero? (Japanese: 妖怪ウォッチJam 映画 妖怪学園Y 猫はHEROになれるか, Yōkai Wotchi Jamu - Eiga Yōkai Gakuen Y: Neko wa Hīrō ni Nareruka) is the sixth theatrical film in the Yo-kai Watch franchise. It was theatrically released in Japan on December 13, 2019.
The film is set in an alternate universe that has human counterparts of existing Yo-kai attending an academy which has mysterious Yo-kai. Eventually, they learn about the YSP Watch and transform into heroes with Y Medals.
The film spawned an anime series, which would begin airing in Japan on December 27, 2019, a week after the series finale of Yo-kai Watch!.
Blurb
"Set in Y-Academy, an elite school that only allows students with top class abilities to enter. The protagonist, Jinpei Jiba, and his unique friends take on the mysteries of the school as transforming heroes."
Characters
Humans
Yo-kai
Yo-kai Heroes
Onryo
Alien
Uchu Kaiju
Other
Pre-release Information
On March 14, 2019, information on the sixth movie was revealed in CoroCoro Comic along with the title and its release date.
On July 13, 2019, the Yo-kai Watch Movie website was updated to include information on the characters, and also had a new competition to design a Keystone for Kengo Benimaru's new form. Five videos were also released which was a song called Let's Go to Y-Academy produced for the film sung by five different utaites.
Tie-ins
Before the movie was released, a code could be redeemed in Yo-kai Watch 4 to get Jiba Jinpei's earpiece that starts a small quest. It would later become a regular item in Version 2.0.0 of the game by connecting to the internet. An update with part of it based on this movie was released in December 2019 with the Yo-kai Watch 4++ expansion.
Gallery
Logo's
Posters
Production Art
Video gallery
Trivia
In the first trailer, the Y Medals had Shadowside Tribes on them, which was later removed in the film's release.
This is the first Yo-kai Watch movie to be released in the Reiwa period.
This film makes several references to the original Yo-kai Watch franchise: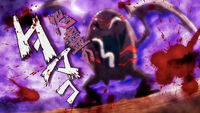 This is the second Yo-kai Watch movie to have blood, where it appears in Tamago's introduction screen.
This is the second piece of Yo-kai Watch media to have self-insert guest stars, with the first originally being Yo-kai Pandanoko of the Yo-kai Watch anime series.
This is the second film to spawn into a series, the first being M04.
The scene where Gakkouger Y stabs its sword into the meteor resembled the scene from M05 where Yasha Enma was doing a similar thing to Overseer, as well as M03 where Jibanyan, Komasan, Invader Mode Usapyon and Hovernyan were doing the similar thing to Whaleman by using "One Million Paws of Fury".
One of the moves that Gakkouger Y does to Meteogon resembles the iconic Kiniku Driver move from Kinnikuman, whereas the host even points it out. Ironically, character designer Takuzo Nagano originally grew up with Kinnikuman and cited the character as "easy-to-draw" for one of his sole inspirations for his career.
Despite appearing on some posters, Clock Lady doesn't actually appear in the movie.
References
External links