Welcome to Yo-kai Watch Wiki
Yo-kai Watch Wiki Highlights
Yo-kai Watch News
Featured News

A new game called Yo-kai Academy Y: Waiwai Gakuen Seikatsu based off the sixth movie and it's series is slated for release on the Nintendo Switch and PlayStation 4 at Summer 2020 in Japan!

A new expansion for Yo-kai Watch 4, called Yo-kai Watch 4++, has been officially confirmed, alongside the PlayStation 4 release of the game! It will come out on December 5, 2019 in Japan.

Yo-kai Watch 3 is finally out in North America, Europe, and Australia! This game contains all of the updates and Yo-kai that were originally released in Japan.

Current News

March 21, 2019 - It was announced that Yo-kai Watch: Medal Wars will be available on the app store for a limited-time week-long trial release on March 28, 2019.
March 14, 2019 - A sixth Yo-kai Watch movie was officially announced, called "Yo-kai Gakuen Y" and will be released theartically in Japanese theaters in Winter 2019.
March 13, 2019 - From a recent Corocoro magazine leak, a release date for Yo-kai Watch 4 was revealed for June 6, 2019.
February 3, 2019 - Yo-kai Watch 3 is officially released in America under a single game version.

Archived News
FEATURED ARTICLE
The first episode of the Yo-kai Watch animated series was broadcasted in Japan on January 8, 2014, which was more than six months after the video game was released. It wouldn't be dubbed into English until it was aired in the United States on October 5, 2015, to coincide with the manga, video game and merchandise.

The episode focuses on Nate meeting Whisper at Mt. Wildwood after he gets unsealed from a mysterious capsule machine. To thank him, Whisper gives Nate a Yo-kai Watch, which would allow him to see Yo-kai behind regular daily occurances. Later on, he meets Jibanyan, who is determined to impress his former owner after he became a Yo-kai.

The whole premise of this episode is loosely based on the first chapter of the Yo-kai Watch video game, and serves as the overall pilot to the entire franchise. Read more...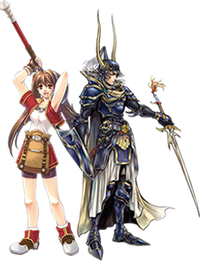 Helping out
To write a new article, just enter the article title in the box below.
Not sure where to start?
Adding content
Community content is available under
CC-BY-SA
unless otherwise noted.