Yo-kai Medallium biography

"A tank who trundled off toward the enemy but got badly lost. At least his heart's in the right place."

Mistank (Japanese: だっせんしゃ, Dassensha) is a Rank B, Earth-attribute Yo-kai of the Tough tribe.
Mistank evolves from No-Go Kart when fused with Ledballoon.
Appearances
Biology
Mistank resembles an ancient war tank colored brown with two sets of wheels, colored navy blue, the same as his arms. His face is colored blue as well, and only shows his eyes. he carries a red war flag with a golden symbol emblazoned on it.
Mistank can make any enemy feel lost and confused. In the anime, he can make anybody distract themselves into something else than what they're trying to do. He can be a big nuisance when doing homework and he feels like it is his "duty" to distract others.
Profile
Fuse No-Go Kart with Ledballoon.
Yo-kai Watch Animation Series
Mistank first appears in EP089.
In EP119, Mistank takes part in the Yo-1 Grand Prix.
Game Data
Evolution
Earth Attribute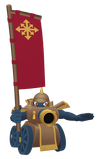 Mistank
Fusion
Earth Attribute

No-Go Kart

+
=

Earth Attribute

Mistank
Stats

Stats
Calculation

HP

1

STR

1

SPR

1

DEF

1

SPD

1
This shows Mistank's stat on level:

99

.
Attribute tolerance
-
-
△
-
-
○
Tolerance of attribute attack
Strong × ⇒ △ ⇒ - ⇒ ○ ⇒ ◎ weak
Movelist
Type
Name
Power
Attribute
Range

Attack

Kaboom! (Japanese: 大砲発射

Taihō Hassha

)
50
Single enemy

Technique

Rockslide (Japanese: 落石の術

Rakuseki no Jutsu

)
50-110
Earth
Single enemy

Inspirit

Loose Cannon (Japanese: 脱線させる

Dassensaseru

)
Single enemy
The Inspirited Yo-kai behaves erratically and attacks allies.

Soultimate Move

Tank 'n' Spank (Japanese: あっちむいて砲

Atchi muite-hō

)
170-255
Single enemy
Unleashes a massive cannon blast, hitting a single foe.

Skill

Earth Cannon (Japanese: 大地の砲

Daichi no hō

)
Normal attacks become Earth attacks.
Etymology
"Mistank" is a portmanteau of mistake and tank.
"Dassensha" is a portmanteau of dassen (脱線, "derailment") and sensha (戦車, "tank").
"Tanquivocado" is a portmanteau of tanque ("tank") and equivocado ("wrong").
"Charivari" is a pun on char ("tank") and charivari ("pandemonium").
Trivia
In other languages
Language
Name
Meaning
French
Charivari
Spanish
Tanquivocado
German
Patzpanzer
Italian
Persarmato
More Languages
Portuguese (European)
Mistanque
Community content is available under
CC-BY-SA
unless otherwise noted.