Mount Wildwood (Japanese: おおもり山, Oomori Yama) is a wild area of Springdale that appears in the Yo-kai Watch games. It is where the original Crank-a-kai is located, and has areas for the player to catch insects and fish.
It is accessed by following a path to the north, at the right from Springdale Elementary School. In Yo-kai Watch 2 and Yo-kai Watch 3, there is a new area that leads to the Jumbo Slider, connecting to Breezy Hills.
The area appears in Yo-kai Watch 4, albeit with the path leading to northern part is blocked off and replaced with a door to the future.
Overview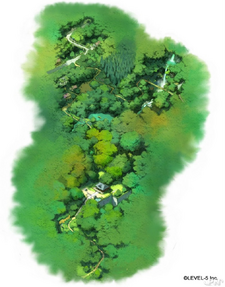 This small mountain lies north from the main city and is a very peaceful area in comparison to the busy city center. A temple with an altar is found on the mountain's foot, which is separated from normal ground level by a couple of stairs. Behind this temple is a sacred tree which houses both the primary Crank-a-Kai and the entrance to the Yo-kai World. A Mirapo is found near the temple, with an Eyepo right next to it.
There is also a path that slowly climbs to the top of the mountain and leads to various other small pathways to explore. There's an abandoned house, a waterfall with a hidden shrine, and an abandoned mine that serves as an optional dungeon (except for the first game).
As of the second game, it also allows the player to access the very top of the mountain via a small pathway near the east entrance of the abandoned mine. over there is another Mirapo.
There is also a binocular which, when peaked trough, will give the player a nice overview of the city, with most other areas being visible.
Places of Interest
Crank-a-kai
Main article: Crank-a-kai
The Crank-a-kai is a gacha machine found at the Sacred Holy Tree leading to the right path from the shine, that plays a prominent role in the games.
Mt. Wildwood Shrine
Items
Trivia
This area as the least amount of Treasure Boxes in Yo-kai Watch 3, with it only being two.
In other languages
| Language | Name | Meaning |
| --- | --- | --- |
| Japanese | おおもり山 Oomori Yama | |
| French | Mont Sylvestre | |
| Spanish | Monte Arboleda | |
| German | Waldberg | |
| Italian | Monte Selvoscura | |
| Dutch | Woudberg | |
| Russian | Чащобная гора Chashtobnaya gora | |
| Korean | 울창산 Ulchangsan | |
Community content is available under
CC-BY-SA
unless otherwise noted.