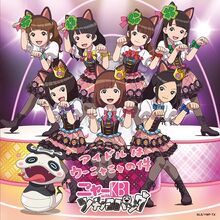 Next HarMEOWny (Japanese: ニャーKB, NyaKB) is a girl group that appears in the Yo-kai Watch franchise. This group is known to have twelve members, with a few of them appearing in various media.
Jibanyan is heavily known to have likings for Next HarMEOWny, and usually either goes to concerts or buys various merchandise from it.
Overview
Next HarMEOWny's members are entirely young girls dressed in cat-themed attire, which is one of the many reasons why Jibanyan has placed them as his favorite idol group. According to Jibanyan, it was created by someone named Mr. Nyasushi Nyakimoto.
Out of 12 of the known members, 5 of them are original and made their first debut in the anime and the second game, while the remaining 7 are a parody of the real-life idol group AKB48, who eventually made their appearance later in the season and as Icon cameo appearances in Yo-kai Watch: Wibble Wobble.
Known Fans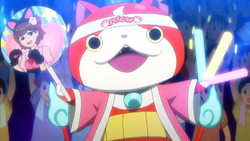 Among the members of their fan club, Jibanyan stands out for being one of the few members who are known to have a single digit number, 00007. A fact which he's complimented on by the Classic Yo-kai Boyclops, Pallysol, and Lady Longnek, who are also members of the fan club, only with numbers compassed by more digits.
Jibanyan struggles to obtain all the merchandising of Next HarMEOWny, such as wall posters and even some pinup magazines, and hopes to get some petting from them, specially from the leading member Fiona.
His admiration from them is so high, he usually gets distressed when announcements like the group splitting up (even though the Yo-kai Failian was behind the effects) or when the group was changing their theme to dogs, which was an April Fool's day prank.
Members
Main article: Fiona
Fiona (Japanese: フササ, Fusasa) is the lead singer of the group.
Sakura (Japanese: さくら, Sakura) is a member of the group.
Raina is a member of the group.
Solana is a member of the group.
Topatopa is a member of the group.
Aria is a member of the group.
History
In the anime
In Are They Really Cool?, Jibanyan wanted to tell Pallysol, Lady Longnek and Boyclops about his love for Next HarMEOWny, to the point of showing his fanclub card to the Classic Yo-kai. It also turns out that the trio were fans of the girl group, even having fanclub cards of their own. Jibanyan also offered the trio some tickets to their concert and as they accept the offer, the trio and Jibanyan leave Nate's room, while Nate and Whisper look puzzled.
Fiona, the leader of the Next HarMEOWny, had a minor role in Yo-kai Snottle. Jibanyan, after an attempt to rescue a little girl from getting hit by a truck by scarifying his place in line, became depressed and sat alone on the beach during a sunset. The little girl, who turns out to be Fiona's little sister, told her about a "pretty red kitty" flew in the air to catch the balloon she was chasing to give back to her. She noticed that it was Jibanyan nearby and informed her big sister.
Fiona approached the cat Yo-kai, much to his surprise that she can see him, which the older girl explained that her family line can see Yo-kai. She then proceeded to thank him for helping her little sister with a kiss, much to Jibanyan's dream come true. Unfortunately, Jibanyan never received his kiss from his favorite idol when Nate summoned him in the middle of encountering Snottle. leaving Fiona bewildered at his sudden disappearance.
In Yo-kai Pandanoko, two of the members of the Next HarMEOWny, Julia and Petunia, saw Pandanoko and immediately takes a liking to his appearance. They both recruited Pandanoko for their next performance as a collaboration to appeal to both the crowd of Panda and Noko lovers, and also invited him to join the group on their bus tours. This helped the snake Yo-kai ease his decision into what he should become.
In Usapyon Is Here!, Jibanyan mentioned that there is an upcoming live-action film of Sailor Cuties, with the actresses being members of Next HarMEOWny after he was able to get the last figurine of Sailor Piaheart.
In EP093, Fiona and her fellow members made a cameo appearance wearing their Halloween-themed cat dresses for the "Next HarMEOWny Special Halloween Concert". After the performance, she shook the hands of her fans and even the Yo-kai, much to the excitement of Jibanyan, Monkeynyan, Doggynyan, and Pheasanyan who attended the concert.
In EP186, Tomnyan, Whisper, Nathan Adams, travel through Garandou's space to find Jibanyan's Next HarMEOWny single CD. As Nate tries to avoid getting the Robonyan F spaceship destroyed, he decides to destroy the single CD, leaving Jibanyan sad.
In the games
Next HarMEOWny made their first debut in the second game, however, they only appeared as cameos in the form of collector cards as key items and gotten a few nods of acknowledgement from various characters and NPCs. Only four out of five members of the group gotten a cameo which left Fiona, the leader, singled out. Each member gets two cards for themselves and a single card with them in a group; the first will portrayed them in their regular pink and black cat attire , while the second is a new sleeveless variation in blue and white color schemes. The cards will also have their names imprinted. There are a total of ten Pics to collect which is all part of a hidden achievement to earn one of the game's trophies.
Once all nine Pics of the Next HarMEOWny cards have been collected, Jibanyan will be in the protagonist's home and he'll express his excitement that the person has been collecting cards of his favorite pop idols and he'll come to the assumption that it is being done as a surprise gift for him. Jibanyan holds the last card, expressing that its "super-rare" but not his favorite among the sets. He's willing to trade it for all of your cards and you'll be given the option to do so.
If the player chooses to trade, this will make Jibanyan happy and he'll swap all of your cards for the final one containing a picture of a man named Nyasushi Nyakimoto. You'll also earn a bronze Trophy titled "Superfan".
However, if the trade is declined, Jibanyan will be greatly saddened and the player will have to wait till the next day in real-time. In order to get another chance to earn the trophy, make sure the game is saved afterwards.
Next HarMEOWny Weather Watch
The Next HarMEOWny Weather Watch is an optional Weather App for the Yo-kai Pad main menu. Jibanyan will share you his app if you talk to him in your character's room. The Weather App features the four members of Next HarMEOWny giving a weather forecast and an advisory on the game's day and night cycle. Once a day has gone by one of the girls will rotate with a report in chronological order before looping back to the first member. There are times the forecast can be predictable while the notifications are random, however, each member has one unique dialogue towards a specific weather condition. The outcome of the weather and a notice will affect the game's environment for fish and bug catching, event triggering, and Yo-Kai interactions and battles.
It should be noted that if the Weather App is used in the Past, the idol group will be replaced with a female reporter instead.
Members
Members of Next HarMEOWny, from left to right; Topatopa, Aria, Fiona the lead singer, Raina, and Solana as seen in episode 44.
Members of Next HarMEOWny with Pandanoko base on AKB48, from top to right and bottom to right; Isabella, Ariana, Sakura, Elena, Rebecca, Petunia, and Julia as seen in episode 51.
Defictionalization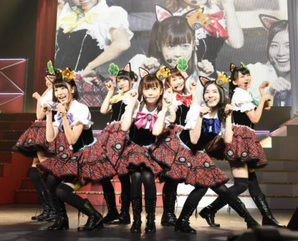 At the 4th Red and White Competition Song Battle event at the Tokyo Dome City Hall, it was announced that Haruka Shimazaki and members of AKB48 and their sub-units SKE48 AND HKT48 would form a subgroup named "NyaKB with Tsuchinoko Panda" in order to compose the third ending song for the anime series. Each member of the group will have a unique head ordainment, a clover or a crown, to reflect on their anime counterparts. [1]

The group is composed by:
Haruka Shimazaki (nicknamed Paruru) (Petunia)
Jurina Matsui (nicknamed Jurina) (Julia)
Sakura Miyawaki (nicknamed Sakura) (Sakura)
Rina Kawaei (nicknamed Ricchan) (Rebecca)
Yuria Kizaki (nicknamed Yuria) (Isabella)
Rena Kato (nicknamed Renacchi) (Ariana)
Mako Kojima (nicknamed Kojimako) (Elena)
Trivia
In other languages
Spanish: Pussycat Miau
French: Next HarMIAOUny
German: Die Super Mietzen
Italian: MIAO Armoniche (anime) Vicina ArMIAOnia/Vicine ArMIAOniche (game)
English: Next HarMEOWny
English: Ariana, Sakura, Elena, Julia, Rebecca, Petunia, Isabella, Fiona, Topatopa, Aria, Raina, Solana
Italian: Arianna, Flora, Elena, Giuliana, Rebecca, Petunia, Isabella, Fiona, Micetta, Aria, Goccia, Solana
Portuguese:
Korean:
Chinese:喵KB
Thai:
Arabic:
References