Yo-kai Medallium biography

"A healer and friend of Taronyan's who likes to do things at his own pace, and sometimes leaves his companions hanging as a result."
Yo-kai Medallium biography

"One of Momonyan's servants. He's the healer on the team, but he often forgets to perform this duty."

Pheasanyan (Japanese: キジニャン, Kijinyan) is a Rank B, Restoration-attribute Rare Yo-kai of the Heartful tribe.
Appearances
Biology
A cat Yo-kai meshed with a bird. Its body is deep green with feathered, pale indigo inner ears. His muzzle is red with a yellow beak between two curled sides of his mouth. He has large black eyes. The fur on each shoulder is fluffy and colored white and red, showing his black arms tipped in white with matching legs. His chest is colored pale indigo with a pale collar around his neck with a crystal orb attached to it. His tails are white with thin, faded black lines and his tails flames are blue. Around his stomach is a gold haramaki.
Profile
Pheasanyan can rarely be befriended by scanning this QR code and then doing the quest "Momotaro Hunter". In the Moon Rabbit Crew update, there is a chance of befriending him if you select Kintaronyan or Odysseynyan in the mission "Momotaro Hunter 2"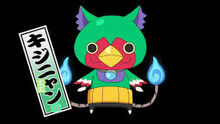 Pheasanyan can be befriended in Blasters T in the Cluphinx Spade Mouth 3
Game data
Evolution
Restoration Attribute


Pheasanyan
Fusion
Restoration Attribute


Pheasanyan
Stats

Stats
Calculation

HP

216

STR

153

SPR

43

DEF

102

SPD

78
This shows Pheasanyan's stat on level: 99.
Movelist
Type
Name
Power
Attribute
Range

Attack

Pesky Poke (Japanese: こづく

Kozuku

)
15-67
Single enemy

Technique

Paradise (Japanese: 極楽の術

Gokuraku no Jutsu

)
80-120
Restoration
Single ally

Inspirit

A Peck Above (Japanese: 難解な力

???

)
Single enemy
The Inspirited Yo-kai becomes pleasant and slowly regains HP.

Soultimate Move

Flying Feathers (Japanese: 鳴かズバ撃タレ舞)
22-44x5
Kicks foes in range with the power of tasty millet dumplings.

Skill

Dumpling (Japanese: きびだんご

Kibi-dango

)
Self
After fainting recover HP one time only.
Etymology
His English name, 'Pheasanyan', is a direct translation of his Japanese name.
Origin
He is based on the pheasant that accompanies Momotaro in his quest in Japanese Folklore.
Trivia
In other languages
Italian: Pavonyan
German: Pfaunyan
Portuguese (Brazil): Tranquilonyan
Japanese: キジニャン Kijinyan
Korean: 꿩냥 Kkwongnyang
Spanish: Faisanyan
French: Faisanyan
Community content is available under
CC-BY-SA
unless otherwise noted.