Yo-kai Medallium biography

"A Yo-kai born from the woes of products that were designed but never quite completed."
Repossessor (Japanese: おくらいり, Okurairi) is a Rank C Earth-attribute Yo-kai of the Tough tribe.
Appearances
Biology
Repossessor is an old-fashioned storehouse with small arms and scowling yellow eyes.
Repossessor inhales and stores all put-off projects from paperwork up to and including, in a moment of fourth-wall breaking humour, unfinished Yo-kai characters. He has both mountains of unfinished paperwork and variations of Rubeus J, Hardy Hound, and Gutsy Bones within himself, those being Freddy J, Jason Dog, and Gashadokurobee-sama.
Profile
Repossessor can be found in Uptown Springdale.
He can also be found in the Desolate Lane, the Shady Back Alley, the Catwalk and in Springdale Elementary at night.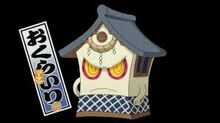 Game data
Evolution
Earth Attribute


Repossessor
Fusion
Earth Attribute


Repossessor
Stats
Stats
Calculation

HP

471

STR

156

SPR

83

DEF

208

SPD

56
This shows Repossessor's stat on level: 99.
Movelist
Type
Name
Power
Attribute
Range

Attack

Tackle
60-90
Single enemy

Technique

Rockslide
50-110
Earth
Single enemy

Inspirit

Repossess
Single enemy
Shocks a foe by shooting down their idea, making them less likely to act.

Soultimate Move

On-the-Shelf Guard (Japanese: お蔵入り案件ガードOkurairi Anken Gādo)
Just thinking about his assigned warehouse lends his STR an ultra boost.

Skill

Repossessor
The first action taken against this Yo-kai will be sealed.
Etymology
His Japanese name is a wordplay on kura (蔵, "storehouse"), and okurairi (お蔵入り, "postponing, putting on hold").
Repossessor's English name is a reference to a "repossessor", a person who takes back an item (like a house) when the buyer can stops paying for it, and a pun on the fact that ghosts are known for "possessing" people.
Origin
Trivia
In other languages
| Language | Name | Meaning |
| --- | --- | --- |
| Japanese | おくらいり | |
| French | Andrécup | |
| German | Peinlager | |
| Italian | Incompletion | |
Community content is available under
CC-BY-SA
unless otherwise noted.