Yo-kai Medallium biography

"A Yo-kai made of ruby. Fire-like light reflects off of him as he fights."

Rubinyan (Japanese: ルビーニャン, Rubynyan) is a Rank A Fire-attribute Rare Yo-kai of the Charming tribe.
Appearances
Biology
Rubinyan is a pure ruby Yo-kai with big black eyes. It's muzzle and paw tips are solid white, while it's inner-ear and nose are gold. Around it's belly is a pure gold band to match it's collar, which has a pink sphere hanging from it. The flames of it's tails are bright yellow.
Profile
Scan Rubinyan's Yo-kai Medal QR code at Piggleston Bank to obtain a Ruby Coin. Using it on the Crank-a-kai will award the Ruby Bell, which makes Rubinyan appear.
Rubinyan is in the northwest corner of Springdale Elementary School's 2nd floor (Uptown Springdale), where he can be battled once a day until he's befriended through the regular method.
In Yo-kai Watch 1 for Nintendo Switch, a real-like Rubinyan Yo-kai Keystone is required instead.
Rubinyan can be freed from the Mystery Way Crank-a-kai using Mystery Coins - Boar, after linking Bony Spirits with Psychic Specters. The Coins themselves can be dropped by beating Retinado.
Rubinyan can be freed from the Oni Crank-a-kai, as a first prize.
Rubinyan can be freed from the Dream Roulette using Special Coins.
Game data
Evolution
Fire Attribute


Rubinyan
Fusion
Fire Attribute


Rubinyan
Stats

Stats
Calculation

HP

424

STR

219

SPR

145

DEF

143

SPD

171
This shows Rubinyan's stat on level: 99.
Yo-kai Watch Busters
HP

632

STR

S

SPR

C

DEF

B

SPD

Unknown

This shows stats at level 99
Attribute tolerance
△
-
-
-
○
-
Tolerance of attribute attack
Strong × ⇒ △ ⇒ - ⇒ ○ ⇒ ◎ weak
Movelist
Type
Name
Power
Attribute
Range

Attack

Sharp Claws (Japanese: するどいつめ

Surudoi Tsume

)
10-45x2
Single enemy

Technique

Incinerate (Japanese: れんごくの術

Rengoku no Jutsu

)
80-120
Fire
Single enemy

Inspirit

Ruby Power (Japanese: ルビーパワー

Ruby Power

)
Single ally
Makes all of an ally's stats shine like a ruby.

Soultimate Move

Ruby Boogie (Japanese: 情熱レッド肉球

Jōnetsu Red Nikukyū

)
20x10 (1)

15x10 (2)

All enemies
Attacks all opponents with shiny ruby paws.

Skill

Linked Together (Japanese: じゅずつなぎ

Juzutsunagi

)
Stat boost for adjacent Yo-kai with same Skill.
Yo-kai Watch Busters
Button
Move
Attack
Hits an enemy nearby
Blaze
Hits a faraway enemy. If charged does more damage.
Soul
| Soul | Effect |
| --- | --- |
| | Strength up to the adjacent Yo-kai. |
Quotes
Befriended: "You're on fire! Let's be friends!"
Being traded: "I see you have a burning heart! That's one thing we have in common, nya!"
Loafing: "Nyaaawn..."
Receiving food (favourite): "Nyumm..."
Receiving food (normal): "Nyot bad..."
Receiving food (disliked): "Nyone of that!"
Freed from the Crank-a-kai: "Nyice! I'm out—and thanks to you! Ready for some fun?"
Before battle:
Post battle (was not befriended):
Post battle (was befriended):
In the anime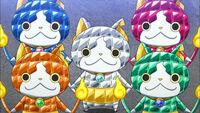 Rubinyan, along with the other Jewelnyans including Sapphinyan, Emenyan, Topanyan first appear in EP161, where Nate has trouble trying to summon Jibanyan after Yo-kai Misterr Typoo erases the name on the Yo-kai Medals shortened to "Nyan". He eventually summons all of the cat Yo-kai that Nate had befriended, but they all turn their backs onto Nate.
Etymology
Rubinyan is a portmanteau of Ruby and Nyan, onomatopoeia for the sound a cat makes.
Trivia
In other languages
| Language | Name | Meaning |
| --- | --- | --- |
| Japanese | ルビーニャン Rubiinyan | |
| French | Rubinyan | |
| Spanish | Rubinyan | |
| German | Rubinyan | |
| Italian | Rubinyan | |
| Dutch | Rubinyan | |
| Russian | Рубиньян Rubin'yan | |
Community content is available under
CC-BY-SA
unless otherwise noted.