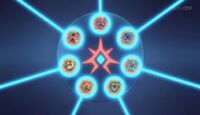 The Seven Academy Mysteries (Japanese: 学園七不思議, Gakuen Nanafushigi) are a set of myths that happen around Y-Academy. Obtaining all seven of the YSP Medals unlocks entry to the mysterious Y-Circle monument, where a Yo-kai named Goromi resides.
They are covered in M06 and in the Yo-kai Watch Jam - Yo-kai Academy Y: Close Encounters of the N Kind anime series, lasting from YG002 to YG007.
List of Mysteries
Mystery
Image
Onryo
Description
Y-Medal
The Love Ban Curse (Japanese: 恋愛禁止の呪い

Ren'ai-kinshi no noroi

)

Several Tsuchinoko and Oyanome, lead by Medusa
Those who confess their love and affection to one another are said to get eaten by a mysterious creature.

Giant Salaryman Mr. Miyazawa (Japanese: 巨大サラリーマン宮沢さん

Kyodai Sarariiman Miyazawa-san

)

Kyodai Salaryman Miyazawa-san
A gigantic salaryman one day started appearing in the grounds of Y-Academy and the surrounding areas, as well as his sightings being posted on the internet.

The Cursed Grandfather Clock (Japanese: 呪われた古時計

Norowareta Furudokei

)

Broken Clock
In the dormitory's cafeteria, there is a clock that's said to lay a curse on an unsuspecting human if they hear it crying in the middle of the night.

Gesu Note (Japanese: ゲスノート

Gesu Nooto

)

Note-kun
Somewhere in Y-Academy, there is a cursed book where if one has their name written in, they will be possessed and do mindless things.

Future-foreseeing Chocolate (Japanese: 未来予知するチョコレート

Mirai-yochi suru Chokoreeto

)

Kyonshii
A mysterious chocolate fortune cookie sold at a confectionery shop gives the person the ability to make their wishes come true while having the written fortune tucked inside their noses.

The Reflecting Tomomichi-kun (Japanese: 映りたがりの友道くん

Utsuritagari no Tomomichi-kun

)

Tomomichi-kun
During an on-set shooting of a film in production, there is said to be a boy with a mushroom-shaped hairdo that appears in footage which lays a curse on the production of it.

Ms. Hanako of the Toilet (Japanese: トイレの花子さん

Toire no Hanako-san

)

Hanako-san of the Toilet
Location
Trivia
Community content is available under
CC-BY-SA
unless otherwise noted.