Yo-kai Medallium biography

"An Oni who doubts everything. He hangs out with his fellow Oni but doesn't trust them at all."
Suspicioni (Japanese: ぎしんあん鬼, Gishin'anki) is a Rank D Water-attribute Yo-kai of the Shady tribe.
Appearances
Biology
Suspicioni, like his bio states, is an Oni. He has a large head, bright blue skin, and a grey horn on top of it. He has three large red eyes with blue irises, two in the front of his head, one in the back of his head. He wears a yellow loincloth with brown stripes and fluff around his neck. He's also barefooted.
Distrustful and paranoid about everything around him, Suspicioni appears to put really little faith in relationships, and he passes this attitude onto those he Inspirits.
Anyone Inspirited by Suspicioni gets filled with immense doubt and incapable of trusting even close friends. In the anime, Suspicioni achieves this by speaking directly to the Inspirited, convincing the victim that everyone else's out to get them. In severe cases, the Inspirited may experience self-doubt to the point of suffering an existential crisis.
Profile
In the first game, Suspicioni are found in Terror Time under the employ of Gargaros and his brothers. Suspicioni are stationary, but have a wide range of vision thanks to their three eyes.
Suspicioni appears under vending machines and cars everywhere in Downtown Springdale.
He also appears in the 3rd and 4th Circles of Infinite Inferno.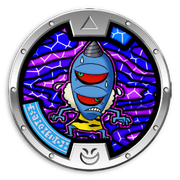 Game Data
Evolution
Water Attribute


Suspicioni
Fusion
Water Attribute


Suspicioni
Stats

Stats
Calculation

HP

1

STR

1

SPR

1

DEF

1

SPD

1
This shows Suspicioni's stat on level:

99

.
Moveset
Type
Name
Power
Attribute
Range

Attack

Pinpoint Pierce
30
Single enemy

Technique

Torrent
20
Water
Single enemy

Inspirit

Distrust
Single enemy
Makes foes distrust their allies and attack them.

Soultimate Move

Suspicious Eyes
All enemies
Gives his enemies the evil eye and hinders their actions.

Skill

Suspicion
May attack an ally.
Quotes
Befriended (Yo-kai Watch):  
Loafing: "Boo."
Receiving food (favourite): "Shadily good..."
Receiving food (normal): "Thanks, I guess."
Receiving food (disliked):
In the anime
Suspicioni appears in EP059, having Inspirited Eddie and causing him to doubt his classmates and teacher. Nate reveals Suspicioni, but before he can attempt to thwart the Yo-kai, Suspicioni switches targets to him and causes Nate to become paranoid. Suspicioni convinces Nate than none of his Yo-kai friends actually like him, and although Whisper and Jibanyan manage to get Nate to summon Blazion, Suspicioni tricks Nate into thinking that Blazion's roaring actually means that Blazion is annoyed at being treated as Nate's puppet. This causes a dejected Nate to dismiss Blazion despite the lion Yo-kai trying to tell him otherwise.
As he passes by Bear, Eddie and Katie, Suspicioni tries to convince Nate to doubt his friendships. Nate ends up summoning Tattletell so he can find out the truth for himself, and becomes relieved when his friends, under Tattletell's influence, affirm their friendship. Shocked that his suspicions have failed, Suspicioni surrenders his Yo-kai Medal. Then Whisper says that if you're suspicious of someone, they aren't always going to hurt you. But then he says "but they probably are..."
Suspicioni is summoned in Yo-kai Chansin as part of a challenge Nate set up for Chansin to win.
He appears again in EP112, where he has trouble inspiriting Chloe and Sydney to make them suspicious of Isabel's outfit.
Etymology
"Suspicioni" is a portmanteau of suspicion and oni.
"Gishin'anki" is pronounced the same as the expression gishin'anki (Japanese: 疑心暗鬼

"suspicion and paranoia generate bogeymen"

).
Origin
Like Leadoni and Mynimo, Suspicioni and its counterparts Tantroni and Contrarioni all belong to a greater type of creature called ko-oni or shoki (see Leadoni#Trivia).
Trivia
In the game, he causes trouble for Nate and Whisper 3 times.

2 Suspicionis accompany Mochismo in Chapter 3.
He fought them to prevent the Yo-kai watch from becoming rank C.
He made Zoey suspicious of her friend, Lina.
In Other Languages
Italian: Suspicion
German: Argwoni
Spanish: Suspicioni
Portuguese (Brazil): Cismado
Community content is available under
CC-BY-SA
unless otherwise noted.