Yo-kai Medallium biography

"Usapyon in a special suit for Terror Time! Features a secret function that allows him to "use the Hose" and enter Emperor Mode."

Usapyon B (Japanese: B-USAピョン, Bī-Usapyon) is an Rank B, Ice-attribute Rare Yo-kai of the Shady tribe.
Appearances
Biology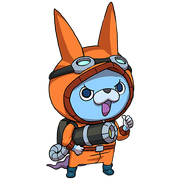 Usapyon B is Usapyon in Blasters gear, just like Jibanyan B and Komasan B, only Usapyon's suit allows him a hoodie to simulate his standard suit's helmet, and has a pair of simple, round goggles on his forehead.
His suit specializes in Terror Time. He can also activate Emperor Mode in Blasters, by touching a Great Orb.
Profile
Usapyon can wear the Usasuit B and turn into Usapyon B starting with the Moon Rabbit Crew update by completing the mission "The Yo-kai Held on the Moon".
After befriending Jibanyan B and Komasan B. Usapyon B can be befriended by finding in front of a record store in Springdale Street in New Yo-kai City and battling him once a day. (This can only be done in both Red Cat Corps and White Dog Squad are both linked. Nothing will happen if you just have Jibanyan B and Komasan B in your medallium.)
Usapyon can don the Usasuit B and turn into Usapyon B after clearing chapter 4. The Usasuit B can be randomly obtained by completing the Labyrinth of Moon Rabbit.
Game data
Evolution
Ice Attribute


Usapyon B
Fusion
Ice Attribute


Usapyon B

Stats

Stats
Calculation

HP

1

STR

1

SPR

1

DEF

1

SPD

1
This shows Usapyon B's stat on level: 99.
Attribute Tolerance
Tolerance of attribute attack
Strong × ⇒ △ ⇒ - ⇒ ○ ⇒ ◎ weak
Moveset
Type
Name
Power
Attribute
Range

Attack

Shot (Japanese: ショット

Shotto

)
50
Single enemy

Technique

Frost (Japanese: 氷結の術

Hyōketsu no Jutsu

)
50-110
Ice
Single enemy

Inspirit

State-of-the-Art Technology (Japanese: 最新テクノロジー Saishin

Tekunorojī

)
Single ally
The Inspirited gets their stats boosted somewhat thanks to the latest in Busters technology.

Soultimate Move

Boing Blaster (Japanese: ゲットBランチャー

Getto Bīmu Ranchā

)
Single column

Skill

Sharpshooter (Japanese: えんごしゃげき

Engo Shageki

)
Opponents
Boosts own combo damage.
Etymology
Origin
Usapyon B is based on a Ghostbuster, from the popular movie franchise "Ghostbusters", also referring to his debut in "Yo-Kai Watch Blasters".
Trivia
In Yo-kai Watch Blasters: Moon Rabbit Crew, Usapyon B can activate Emperor Mode upon being exposed to the Great Orb, although this does not apply to the Invader Chip.
Jibanyan B, Komasan B and Usapyon B all got changed medals for the Western releases of Yo-kai Watch 3, They aren't Dream Medals like there Japanese counterparts.
For Usapyon B to show up in Yo-kai Watch 3 you need linked save data for both games so you need the red cat membership card and the white dog membership card as well as befriending them both through normal means, just befriending Jibanyan B and Komasan B Without both Key Items will not work.
In other languages
Italian: Usapyon B
Spanish: Usapyon B
French: Usapyon B
German: Usapyon B
Japanese: B-USAピョン Bī-Usapyon
Korean: B-우사뿅 B usappyong
Community content is available under
CC-BY-SA
unless otherwise noted.