hello im kyubi mister sandwich And I am pleased to help in this wiki even more in the manga section.but I know that there will be users who discriminate one or more errors and I say "ladies and gentlemen, I invite you to correct my spelling", thank you.
My Idea
I'll post scanned manga images to expand the wiki into the manga.
galleries for the characters (examples: Komasan, Jibanyan, Kyubi, etc.)
Help them with something about the psychological profile of some character.
Frostail WD
Frostail (Japanese: 犬神 Inugami) is a Rank S Ice-attribute Rare Yo-kai of the Mysterious tribe.
Biology
Frostail shares a similar appearance with Kyubi. While Kyubi's fur is golden in color, Frostail's fur is grey and silver. The parts colored purple on Kyubi are dark indigo on Frostail.
Frostail has the power to manipulate ice and snow. It's also purported to bestow lasting good luck.
He seems to be always carrying a book.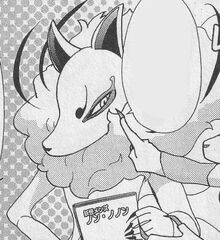 Profile
Yo-kai Watch: Wakuwaku Nyanderful Days
Frostail is apparently shown as Kyubi's rival over the courtship, He competes against Kyubi in general.
Community content is available under
CC-BY-SA
unless otherwise noted.