The Yo-kai Watch anime (Japanese: 妖怪ウォッチ アニメ, Yōkai Wotchi Anime) is a Japanese comedy-action-adventure animated series based on the Yo-kai Watch franchise. It ran from January 8, 2014 to March 30, 2018 in Japan, for 214 episodes and 3 seasons.
The anime primarily focuses on Nathan Adams, who meets Whisper after he was sealed away in a capsule for 190 years. Along the way, he meets Jibanyan and goes on to find other Yo-kai that are known behind various daily occurrences. This adaptation is very loosely based on the video game and manga, and is known to take place in separate continuities.
The anime series has gained significant popularity in Japan, especially at the time when Yo-kai Watch 2 started to gain traction. It has also managed to capture the attention of all age groups, with its comedic slice-of-life humor and creative writing.
The series would see a western release on October 5, 2015 in Disney XD, in the United States and eventually in other countries later on.
Overview
The Yo-kai Watch anime is mostly based on the video games, taking place in a separate continuity and focusing more on a comedic slice-of-life series. As such, several episodes feature loose plot connections that either tie in to new elements or then-released games or merchandise.
Throughout its run, many of the Yo-kai have appeared where they each either get an episode dedicated to them, or their own segment, divided into different parts into each episode. Though they are mostly focused on Yo-kai that represent the series as mascots, some lesser-known characters also appear in them.
Episodes are usually split into an average of three parts, which make up the 30-minute runtime much like how western cartoons divided between two episodes. There are also occasionally half-hour specials which make up one long segment.
Throughout the original Japanese series run, it has managed to run for three seasons in the span of almost four years. New episodes were regularly aired every week on Fridays on the Japanese television TV Tokyo. However, some episodes air at different dates.
Opening
Main article:

List of Anime Opening variants
Before the episode begins, it starts with a warning with the viewer reminding not to copy the Yo-kai's actions or something bad would happen in the English dub with a close-up image of Jibanyan, and Whisper appearing at the sides. The original Japanese version of the cold open instead tells the viewer to watch the show in a well-lit room and not too close to the television. The warning would be retained for the rest of the series' run in the English dub while it lasted for 26 episodes in the original.
Either after the first segment or scene of a 30 minute-long special, an opening narration happens depicting the everyday lives of humans where Yo-kai are causing problems for them and goes on to explain that they cannot be found without a Yo-kai Watch. The animation and narration of the cold open is changed to that of Whisper's voice actor from EP077, and shows an example of an unnamed human suffering through a relatable problem that makes up the plot point of the coming episode.
Production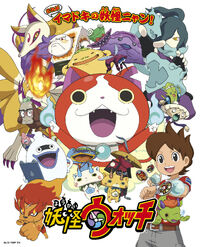 A Yo-kai Watch anime was first confirmed to be in development back in June 17, 2013, some time before the Yo-kai Watch video game was released in Japan. The article said that the anime would be a series where kids would relate to everyday problems would be broadcasted in January 2014.[1]
In July 2013 after the release of the game, a app for phones called Yo-kai Taiso Dai-ichi Puzzle da nyan were released, containing the first ending theme which would later appear in the anime series. More details of the anime were showcased before the franchise's debut at the World Hobby Fair 2014 Winter in November 2013, where plot details were revealed then.[2] A television spot was also released in December, showing the some of the Yo-kai that would appear in the series.[3]
The anime is directed by Shinji Ushiro, and produced by Yoshikazu Kuretani and Kiyofumi Kajiwara. The story is written by Yoichi Kato and the music is arranged by Ken'ichirō Saigō. The episodes were produced at OLM, by Team Inoue.
Seasons
The animated series of Yo-kai Watch has managed to ramp up to 214 episodes, which are all split into three seasons in the original adaptation. Each of them ran for around seventy episodes. The English dub had the episodes ordered in a different manner, with over a hundred of them getting dubbed into English.
Season 1
The first Japanese season started on January 8, 2014 from EP001 to EP076.
Season 2
The second Japanese season started on July 10, 2015 from EP077 to EP150 that introduced Hailey Anne and Usapyon. This seasons marks the third season of the few international dubs.
Season 3
The third and final Japanese season started on January 6th, 2017 and ended on March 30th 2018 and lasted from EP151 to EP214. It was more focused on defeating new Yo-kai than befriending them. It is the only season to not get dubbed into any international dubs outside of Asia at all.
Media
Episodes
Main article: List of Yo-kai Watch episodes
Successors
The series has a sequel in the form of Yo-kai Watch Shadowside, which started airing in Japan on April 13, 2018. It focuses on the adventures of Summer, Tate, Cole, and Bruno.
The series has two successors, which follow a similar style; Yo-kai Watch! and Yo-kai Watch♪.
References