World of Warcraft: Dragonflight - The Loop
Play Sound
Yo-kai Watch (Japanese: 妖怪ウォッチ, Yōkai Wotchi) is a multimedia franchise by Level-5, consisting of a series of role-playing games, animated adaptations and a manga series. The series officially debuted in late 2012, with the manga coming first before the video game was released in 2013.
In Japan, it was once one of the most popular monster-catching franchises during the peak of its popularity.
Overview
History
Initial Creation and Concepts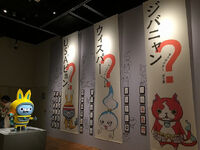 With the success of Professor Layton, Inazuma Eleven, and Little Battlers Experience, Level-5 decided to create a new IP that would last for a very long time. The keyword that one day came to Akihiro Hino's mind was "Youkai", and said to have already imagined the setting inside of him. He thought about mixing classic mythology with modern-day themes, which was when the title of the franchise "Yo-kai Watch" came in; evoking a combination of both. Level-5 art director Takuzo Nagano was ordered by Hino to design the characters and setting which were written down from what was inside his head.
Planning and development started in 2010[1], where the franchise was originally intended for "men and women" due to their other IPs such as Inazuma Eleven already fulfilling the younger audience[2]. The Yo-kai were designed to come from "an old-fashioned setting", which were what Nagano imagined in his head when it came to "youkai". Some of the first drafts were described by Nagano as a "Showa-period atmosphere", rivalling that of Gegege no Kitaro, while evoking the vibe of The Laughing Salesman.
Eventually, the direction of the franchise were changed to be more child-friendly, where they ended up using Doraemon as their inspiration[3] for further character experimentation. The main characters were designed to be modern-day representations of the characters from Doraemon, such as Nate lacking confidence unlike Nobita and Whisper not having any knowledge unlike Doraemon. This was because Akihiro Hino wanted the characters to be more relatable to go with a modern-day setting.
One of their first steps for creating the world were to make the player explore freely and walk around in an environment. Nobuyuki Yangi originally drew up the rough draft plan of Springdale in the form of a "tourist map", before settling onto specific districts. The setting was originally more futuristic, but it was slowly changed to look more timeless and applicable with modern-day life due to Nagano not wanting the characters to stand out too much from the setting.
Announcement and Prerelease
The franchise was announced at the Level-5 Vision Event in October 2011, where the game was shown running on an unspecified system. The game ended up being re-purposed for the Nintendo 3DS. The manga adaption of Yo-kai Watch was first released in Japan on December 15, 2012, seven months before the game's release.
Rise to popularity in Japan
When Yo-kai Watch came out in Japan, it sold 53,000 copies in its first week, and eventually rose to a total of 1.29 million copies in 2014, becoming one of the best-selling games on the Nintendo 3DS..
Popularity of the franchise started to skyrocket with rising viewership of the Yo-kai Watch anime series in March 2014, [4] and eventually increase even more when Yo-kai Watch 2 came out in Japan during the summer. The game made the franchise popular among many demographics, and the Yo-kai Watch anime series became one of the most-watched animated shows in Japan alongside other popular anime like Doraemon and Detective Conan.
Its popularity in Japan led to Yo-kai Watch becoming a phenomenal creation, dubbing it as the Yo-kai Watch Boom (Japanese: 妖怪ウォッチ ブーム, Yōkai Wotchi Buumu) by fans and media outlets around the time.
As a result of the massive boom of popularity, the franchise has made many crossovers in Japan with popular characters from other franchises.
As of July 2016, the franchise has sold 10,438,903 copies in Japan alone. This amount excludes digital sales.[5]
Second Season
At the LEVEL-5 VISION Event in March 2015, the second season of the franchise was introduced, along with new protagonists Hailey Thomas and Usapyon. It was when Yo-kai Watch 3 was announced and a new season of the anime series, which would tie in with then-upcoming game. A new movie was also teased there, and more information would be revealed in the coming summer.
Release in the West
On February 18, 2014, Level-5's international Twitter account posted a Tweet if the western audience were interested in seeing the Yo-kai Watch franchise outside of Japan after the mild success of the video game, with a positive response in return from other users,[6] and further piqued interest from the massive success of Yo-kai Watch 2 in Japan.
Plans for localization were considered when the franchise was at the peak of it's popularity in July-August 2014[7], along with the tentative title originally being called "YO-Kai Watch"[8]. It was further confirmed in December 2014 during the Japanese release of Yo-kai Watch: The Movie, when Hino said that they would be bringing the anime series overseas.[9]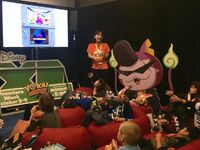 The western localization of Yo-kai Watch franchise would later be announced in April 2015, with Hasbro confirming to produce the toys, and the anime series being dubbed into English. More details on the games and anime were revealed at Electronic Gaming Expo 2015, where they announced a fall release in the North American market, alongside the merchandise and the anime series.
When the games and anime were released in North America, several elements had to be modified due to many of the cultural elements not transitioning well to a western audience. The most notable example is changing the location of Springdale from Japan to an unspecified location in the United States, even though a lot of the Japanese aesthetics remain. The localization changes are notably present in the English dub of the anime series, which includes renaming certain foods and painting over Japanese text.
After the video game, anime series and manga was released in Europe in Spring 2016, it received better sales in that territory, especially in France, Spain and Italy to an extent. The video game sold 650,000 copies compared to 360,000 sales, which is almost twice the amount of the sales in North America. The initial success in both of those territories warranted a localization for several future games in the series, along with dubbing for future seasons
Change in Direction
Months after Yo-kai Watch 3's release, a new arc was introduced focusing on Busters T, which would be included in the game, and the anime series. It would further expand into a separate game called Yo-kai Watch Busters 2, which was released in late 2017.
When Yo-kai Watch 3 was released in Japan in summer 2016, it didn't sell as much copies in comparison to the previous two entries. It was the point when Hino wanted to change the series' direction in order to "win back older fans" of the franchise, and the new flow would have begun with a movie in late 2017. Yo-kai Watch Shadowside, a darker reimagining of the franchise would come into play.
Return to Roots
In 2019, the focus of the franchise shifted slightly back to Nate, when the Yo-kai Watch! series came in, along with him playing a more prominent role in Yo-kai Watch 4.
Y School Heroes
Games
Main Series
Spin-off Series
Mobile applications
Arcade Games
Total Sales
Review Scores
Famitsu
Game
Score
Yo-kai Watch
36/40
(9, 9, 9, 9,)
Yo-kai Watch 2: Bony Spirits & Fleshy Souls
36/40
(9, 9, 9, 9,)
Yo-kai Watch Blasters: Red Cat Corps & White Dog Squad
33/40
(8, 8, 9, 8,)
Yo-kai Sangokushi
35/40
(9, 9, 9, 8,)
Yo-kai Watch 3: Sushi & Tempura
37/40
(9, 10, 9, 9,)
Yo-kai Watch 3: Sukiyaki
37/40
(10, 9, 9, 9,)
Yo-kai Watch Busters 2
34/40
(9, 8, 9, 8,)
Yo-kai Watch 4
37/40
(9, 10, 9, 9,)
Yo-kai Watch 4++
36/40
(9, 9, 9, 9,)
Spin-off franchises
Y School Heroes
Y School Heroes (Japanese: 妖怪ウォッチJam 妖怪学園Y, Yōkai Wotchi Jyamu Yōkai Gakuen Wai, Yo-kai Watch Jam: Yo-kai Academy Y) is the first spin-off franchise in the Yo-kai Watch Jam series, initially released with the sixth movie and anime series in 2019. It is focused in a boarding school where most in-universe human counterparts of Yo-kai attend and have the ability to transform into Yo-kai Heroes via usage of the YSP Watch.
A video game called Y School Heroes: Bustlin' School Life was released on August 13, 2020 in Japan.
References