| | | |
| --- | --- | --- |
| | Yo-kai Watch anime series | |
Yo-kai Watch Jam - Yo-kai Academy Y: Close Encounters of the N Kind (Japanese: 妖怪ウォッチJam: 妖怪学園Y 〜Nとの遭遇〜, Yōkai Wotchi Jam - Yōkai Gakuen Y: - N to no sōgū), officially known in Japan as Y School Heroes is an animated Japanese comedy-action-adventure series. It started airing on December 27, 2019 in Japan, replacing Yo-kai Watch!.
The series takes place before and after the events of Yo-kai Watch Jam - Yo-kai Academy Y the Movie: Can a Cat be a Hero? serving as a continuation and expansion of the movie.
Overview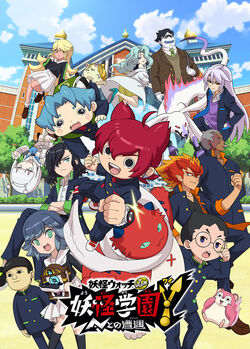 The super elite school Y Academy is shrouded in many mysteries. The "YSP Club" tackles those very mysteries. And not just that, they can also transform into "Yo-kai Heroes". They are entrusted with the mission of solving the greatest mysteries in Yo-kai history. An overly powerful student council, a ruthless disciplinary committee, and even an alien invasion.
What awaits Jinpei and the other "YSP Club" members? A bright future? Or perhaps... Sudden gag overload. Touching developments that'll move you to tears. A completely new experience is waiting for you. Unravel the biggest mystery of the Y Academy... no, the entire world.
Episodes
Trivia
This is the second Yo-kai Watch anime series to be based off a Yo-kai Watch film with the first being Yo-kai Watch Shadowside.
This is the first Yo-kai Watch anime series to have a new writing team, whom originally worked on Level-5's other IPs such as Layton's Mystery Journey and Snack World.
This is the first Yo-kai Watch anime series to use YouTubers as voice actors. 
Similar to the Yo-kai Watch anime and Yo-kai Watch!, this series has comedic gags.
References
External links
Community content is available under
CC-BY-SA
unless otherwise noted.